"Home Assembly Database Directory"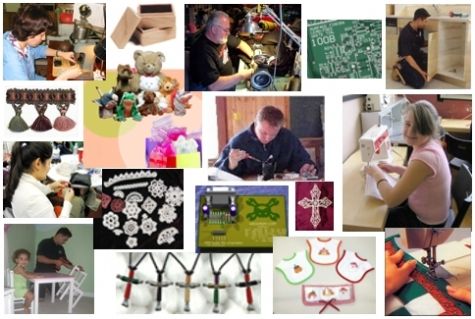 The "Home Assembly Database Directory" offers LARGE listing of 1,200+ home assembly companies that perform assembling of products like sewing, electronics work, woodwork, craft work or making Jewelry etc... We have the largest list available on the internet that we know of. And we have the lowest price for this quality of a list on the internet. We take pride in seeking out these companies and providing you with this information. We have checked out these companies to the best of our ability and we're sure that you'll find the type of company you are looking for.
Many companies are listed with phone numbers, so you'll be able to contact them as soon as you get our information - "Home Assembly Database Directory"... no need wasting time mailing out postal letters to non-existent places which will delay time in getting started.
We have documentation on each company plus a sample of the product they offer. We only insert companies that have met our required evaluation. We are in direct contact with each company and should a problem arise we will gladly resolve it for you.
Partial List of The Types of Assembly Work By Home Assembly Companies!
Babushkas
Coasters
Pottery
Wall Hangings
Curtain
Cd Cases
Oven Mitts
Angel Pins
Purses
Furniture
Boots
Circuit Boards
Dresses
Key Chains
Handbags
Baskets Pillows
Passementeries
Towel Holders
Posters
Ornaments
Potholders
Childrens
Clothing
Candles Placemats

Books
Woodworking
Dolls
Holiday Gifts
Towels
Birdhouses
Calendars
Ire Screens
House Slippers
Kimonos
Folk Art
Greeting Cards
Baby Bibs
Note Cards
Leather Products
Floor Rugs
Mittens
Pillows
Miniatures
Flower
Arrangements
Room Dividers
Shawls
Quilts
Mufflers
Back Supports
Jewlery Boxes
Dried Flowers
Picture Frames
Eyeglass Covers
Screens
Mens Ties
Tapestries
Rugs
Cutting Boards
Stationery
Belts
Scarves
Magnets
Coverlets
Sculpture
Chairs
Wall Hangings
Mirrors
Duffel Bags
Mocassins
Hair Barrettes
Carvings
Sashes
Potpourri
Stained Glass
Appliance Covers
Mailing Circulars
Throws
String Art
Stuff Envelopes
Plant Holders
Swings
Carvings
Wind Chimes
Wood Toys
Painting Items
Placemats
Window Boxes
Paintings
Window Frames
Lamps
Book Ends
Create Bookmarks
Sandals
Throws
and much more...
Place your order for "Home Assembly Database Directory" today! Pay one time only!
Get your credit card out immediately and click the 'BUY NOW' button below...
It doesn't matter if it's 2:00 a.m. in the morning!
Limited Time Offer!!
INSTANT DOWNLOAD
Normally $149.95
Todays Special Price ONLY
$99.95 $69.95 $39.95!
This low price will be ending soon so hurry
and take advantage of this special offer!
NOTE: Once your payment is approved, you will be e-mailed a special download page link where you can access "Home Assembly Database Directory". All orders are processed through 100% secure server by Regnow for added security. Your privacy is guaranteed!
For further questions or comments, please visit our customer service center.